How to Buy Rocket League Items at Rocketprices.Com?
Welcome to buy Rocket League Items, Keys, Crates on our store, follow us to learn how to make order step by step:
1. Open our store - www.rocketprices.com on your browser
2. Choose the platform you are playing on (Xbox One, PS4, Steam PC, Switch), then click BUY NOW
3. Enter the page for all the Rocket League items we are offering on the platform, click the TYPLE NAME (such as Boides, Wheels etc.) to see the items under this catalogue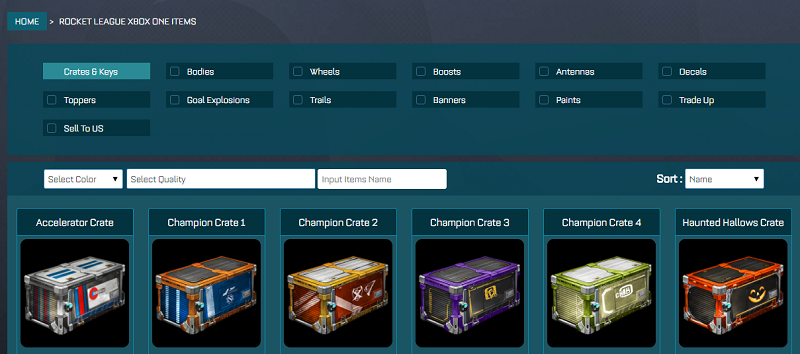 4. Select the items your want to buy by clicking ADD Cart, then click CHECK OUT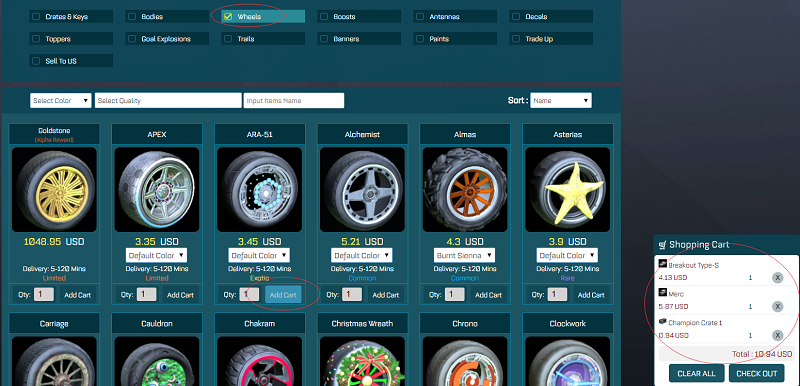 5. Confirm the items you are ordering, fill up your correct Contact Information and leave us your game info (such Xbox gamertage, PSN, Steam ID etc.) for delivery

6. Select G2A or any the payment method we accept now, then click PAY NOW to complete your order payment.
7. Any problem and question on placing order, please feel free to contact our 24/7 Online Livechat!
How To Gte Big Discount Coupon For Rocket League Items On RocketPrices?
1. Coupon "ROC" Offer 3% Discount Off For All Customers
2. Give Us 5-Star Review To Win 5% OFF Coupon

1. If you have made a order at our store and are happy with our service, we invite you to review our site
2. Open https://www.trustpilot.com/review/rocketprices.com give us a high phrase (at least 20 words same as the example as below) and leave 5-star review for our service of Rocket League crates, keys and items.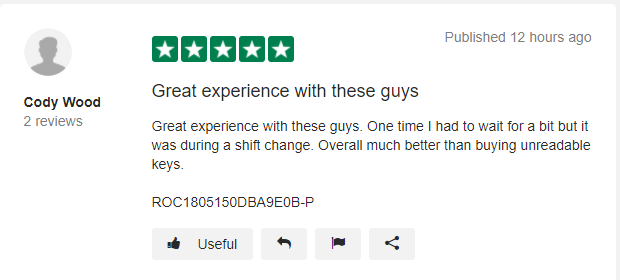 3. Then follow our Twitter (@Rocket_Prices) or Facebook (@RocketItemsPrices) and contact us there to tell us your name on Trustpolit. We will give you a VIP Coupon with 5% OFF for all orders.
Why do we have to verify the payment?
We need to verify the legitimacy of the payment,otherwise we will not approve and deliver your purchase.
1. We need to verify if the payment is authorized by the owner of the credit card/debit card/payment cards.
2. There are some buyers under 18 years old who pay with their parents's payment cards without the permission.
3. Unusual Purchase pattern from you. (large amount or high frequency of purchase)
4. High chargeback rate coming from your country.
How To Sell Your Rocket League Items To Us?
Welcome all Rocket League players to sell your Rocket League Crates, Items to us for real money or keys!
1. Open our SELL TO US link:
Sell Rocket League Items For Money
Sell Rocket League Items For Keys
2. Select the platform your game on, then you can check the sell prices in cash or in keys for the items you want to sell before you fill in your information.
3. Select the items you want to sell and fill in your correct information for trade and payment, then click SUBMIT.
4. Contact us vis discord or skype, our online customer rep will tell you the details about trade (including the ID of our trading guy):
Discord : RLitems_BUY#1784
5. Then add our trading guy (PC) or send invite to our guy (PS4, XB), complete trade. And if you want to exchange for keys, we will trade you the keys for your sold items at same time.
6. For sell items for cash, the money for your sold rocket league keys, crates and items will be paid instantly through Paypal after trading.
How To Change PSN Account?
Step 1: Open the Sony website.
https://account.sonyentertainmentnetwork.com/
Step 2: Enter the PSN Account and Password
Step 3: Click Account and Account Details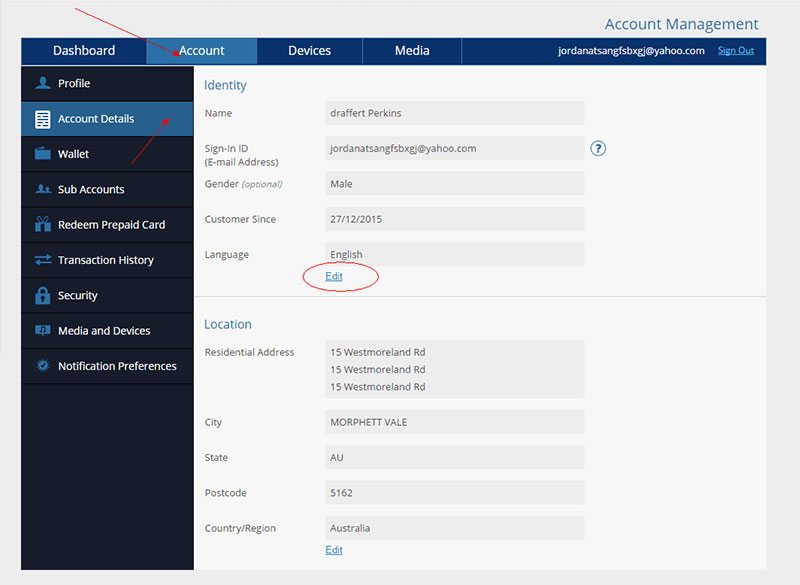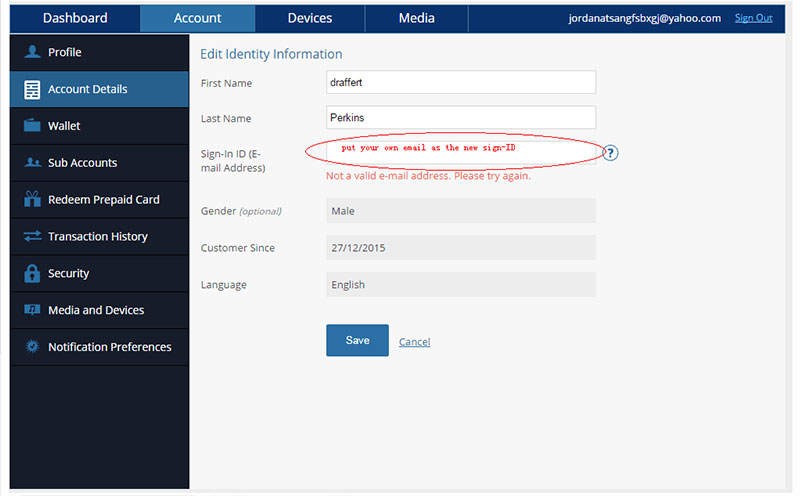 How to change your Steam profile status?
First, you need to have the right profile settings on your Steam Account.
1: Go to your Steam profile and click on the "Edit Profile" button on the right side.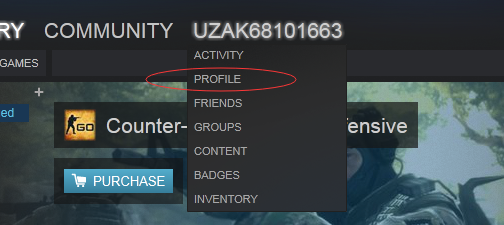 2: Then click on the "My Privacy Settings" on the right side.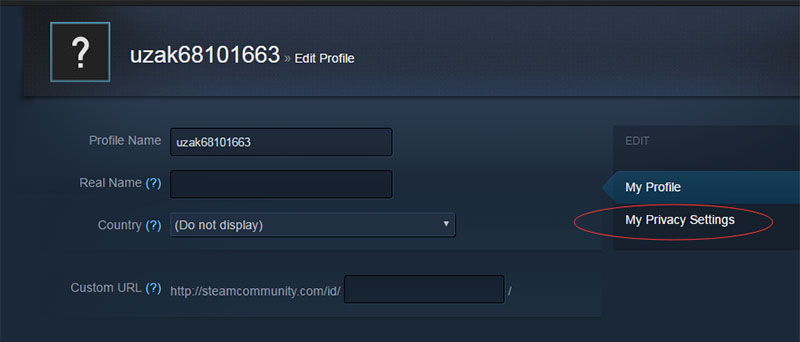 3: Under "Profile Status" and "Inventory", choose "Public – Viewable by anyone on the World-Wide Web".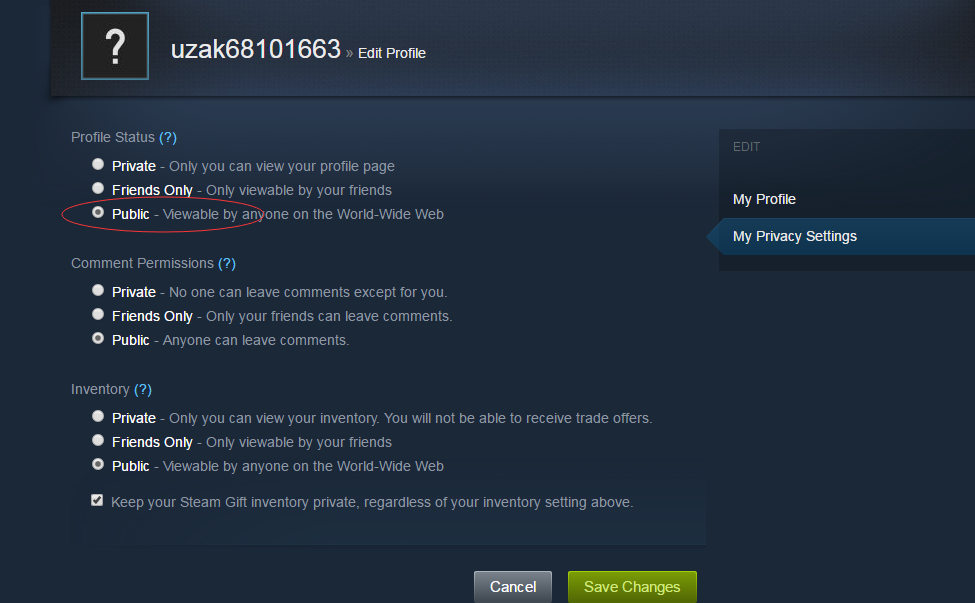 4: Then click the "Save Changes" on the bottom of the page.
After that please open your steam trade offers page:
https://steamcommunity.com/id/me/tradeoffers/privacy#trade_offer_access_url
At the sub-item "Third-Party Sites" you will find your Steam Trade Offers URL.

Rocket League
1. Please keep online in the rocket league, we will add you as friend and invite you to party in game and trade with you.
2. For credits. you have to put an any junk item in the trade when trading the credits with us, otherwise the trade can not be completed.
3. For new registered players, you have to purchase at least 500 credits in rocket league game shop or esports tokens, then you can trade in game.
4. Must enabled two-factor authentication (2fa).
5. The account who will trade with you is probably not the account who invite you into the party, please join in and accept the trade whoever invite you.
6. Player name must be correct, otherwise we cannot trade.
7. Please do not invite us after you join in the party, it will lead to an error.
8. If you purchase a lots of different items, then it probably need to trade by more than one account, when we trade you please make sure accept trade immediately then we can use another account to trade you again for the rest.
9. Some salable items are out of stock temporarily, we will trade them to you once we restore it.