100% FREE & SIMPLE & SAFE for every Rocket League player to Win 50x Rocket League Items (Decals, Wheels, Boosts, Trails, Paints, Cars & More) from 50x Golden Gift Opening, and Titanium White Octane! Join our Rocket League Items 161-2 Giveaway. Good luck to all!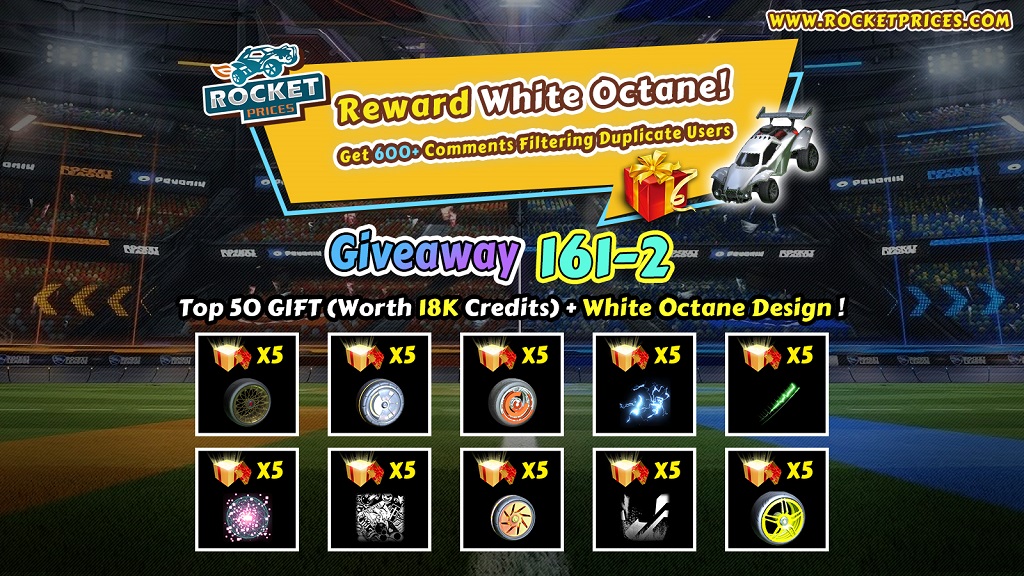 Subscribe RocketPrices Youtube Channel, Watch & Comment The Video of RocketPrices.Com Weekly Rocket League Items Giveaway 161-2 To Join and Win the total 18,000 credits valued Rocket League Items for FREE, this week at least 11 winners will be rewarded! Once comments are over 600 (filtering duplicate users), one winner will be picked to win the WHITE OCTANE! Keep read to get to know How To Join and Win!

⭐

If you want to buy Rocket League Items

&

Credits

at the cheapest prices, don't forget to check out the best offers on Rocketprices.Com!



Comment Our 161-2 Video on Youtube, Win 50+ Rocket League Items
⭐1. Starting from PDT 00:00 AM November 18th to PDT 24:00 PM November 24th, 2021, subscribe Rocketprices Youtube Channel, watch, like, and comment on the below video on Youtube to earn the chance for winning one of the reward shown in the video!
Click the below link goes to the video and leave your comment:
⭐⭐⭐⭐https://youtu.be/Rab504-D83o⭐⭐⭐⭐
Share our video and giveaway to your friends now! for the winners who share our Giveaway on their Facebook or Twitter over 48 hours, we will send 500 credits as an extra reward.
⭐2. Max 11 winners would be picked from the comments! The more comments we get, the more winners will be picked!
1) Comments reach 20, 1 winner will be picked; reach 40, 2 winners will be picked; reach 60, 3 winners…..and so on (filter duplicate users), so 200+ comments get, max 10 winners will be picked. the 10 car designs in the video will be sent to 10 winners in the corresponding sequence.
2) If total comments (filter duplicate users) reach 600+, one extra winner will be picked to get white octane!
Special reward for 600+ comments

Car: Titanium White Octane
Reward 1

Snakeskin
Samurai
Dino
Black Yamane
Storm Watch
Reward 2
Purple Kyrios
Black Hypnotik
Lucky Stars
Rose King
Cobalt XVI
Reward 3
Dot Matrix
Critters
Chrono
Burnt Sienna Power-Shot
Discotheque
Reward 4
Lightning
Sticker Bomb
Cobalt Comet
Lucky Stars
Crimson Lift-Off
Reward 5
Machina
Black Retro Sun
Pearlescent(Matte)
Forest Green EKG-OMG
Muddy
Reward 6
Titanium White Gaide
Diomedes
Reevrb
Purple Atomizer
Yamane
Reward 7
Forest Green Sticker Bomb
Cobalt Chainsaw
Machina
Saffron Splatter
Saffron Finny
Reward 8
Bob's Ramen
Pink NNTR
Rose King
EKG-OMG
Gernot
Reward 9
Forest Green Muddy
Black Gigapede
Sticker Bomb
Pearlescent(Matte)
Lucky Stars
Reward 10
Dot Matrix
Dino
Saffron Gaiden
Retro Sun
Lightning
❗❗Note:
1) As the stock problem with these items on Switch, we will send 1,000 Rocket League credits instead.
2) To be fair for all players, we will only send one reward to one game ID (If there are two or more reward orders related to the same single game ID, only one reward will be sent to this game ID, and the extra winners will be picked on next giveaway to get the extra rewards) so we do suggest one player only use one youtube account to join the giveaway! thanks for your support!
⭐3. On November 25th, 2021, we use our own Youtube Comment Picker (https://www.rocketprices.com/youtube-comment-picker) to pick winners, and video record the picking progress, then reply to the winners' original comment on the giveaway video and send a redeem link for trading reward, the winner can use the link to redeem a reward order No. Note: The Time For Claim Reward is 15 Days After Winner List Announced.
⭐4. After you get the Reward Order No., please edit your original comment and add reward order No. into it, we will check and confirm your reward order No., then reply to your comment to inform you to log in to your game for trading.
Subscribe our Youtube channel to join more FREE Rocket League Items Giveaway!
We are keeping doing the huge giveaway every week, completely free without any risk! If you don't want to miss any chance to win free rocket league items, go to subscribe Rocketprices youtube channel now!
How to join our youtube giveaways for winning free rocket league items weekly?
⭐1. Subscribe Rocketprices Youtube Channel, ensure you will not miss every our video to win free rocket league items;
⭐2. Like and comment on the videos which are involved in free rocket league items giveaways;
⭐3. We will pick up some winners from comments to receive the rewards - like full sets of rocket league designs, the items we draw from crates, etc. in the giveaway videos;
⭐4. Every Thursday, we release the new giveaway video (-2) on youtube and pick the winners and send rewards for the last week's giveaway, which means almost every week you can join our giveaway and win free rocket league items - generally worth 1,000 to 10,000 credits.
⭐5. Any question, please message us on:
Twitter: https://twitter.com/rocket_prices
Facebook: https://www.facebook.com/rocketitemsprices