It is time for best Rocket League Car Designs Recommend from RocketPrices.Com again! Today, let's cover the new import Battle-Car Twinzer! If you have owned this new car but have no idea how to make an eye-catching design for it, or if you are thinking about to have one but wonder how it would look in a cool design, you are on the right place! Here we will show you two classic and gorgeous Twinzer designs!
Rocket League Twinzer Introduce and Prices
Rocket League Twinzer is introduced in the Impact Crate, which is a part of the Salty Shores update released on May 29, 2018! It's designed based on the popular Octane and a buggy, so using the same hitbox as well as Octane. Now the Twinzer has been very hot in the market now. You can check the Twinzer prices on all platforms here, including the prices for all available painted colors:
Rocket League Twinzer Prices On PS4
Rocket League Twinzer Prices On Xbox One
Rocket League Twinzer Prices On PC
Rocket League Twinzer Prices On Switch
Watch the video to take an overall view of the two Rocket League Twinzer Designs we recommend to you:
We present the list of all the Rocket League items we used for each design for you. By the way, if you want to buy the Fire God and any of these Rocket League skins to make up your car, all these rocket league skins and Twinzer are on hot sale on RocketPrices.Com for nice prices!
Welcome to fast buy cheap Rocket League crates, bodies & items and tradable Rocket League keys here, discount coupon "ROC" can help you save more!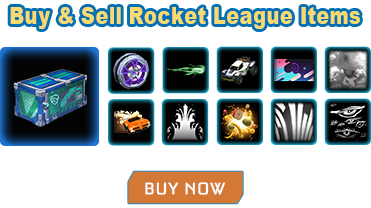 Design 1 - Crimson
Body: crimson twinzer (primary:c1-r5-bubbly,accent:c2-r4-bubbly)
Decal: bubbly
Wheel:crimson centrd
Topper: crimson octopus
Boost: titanium white sacred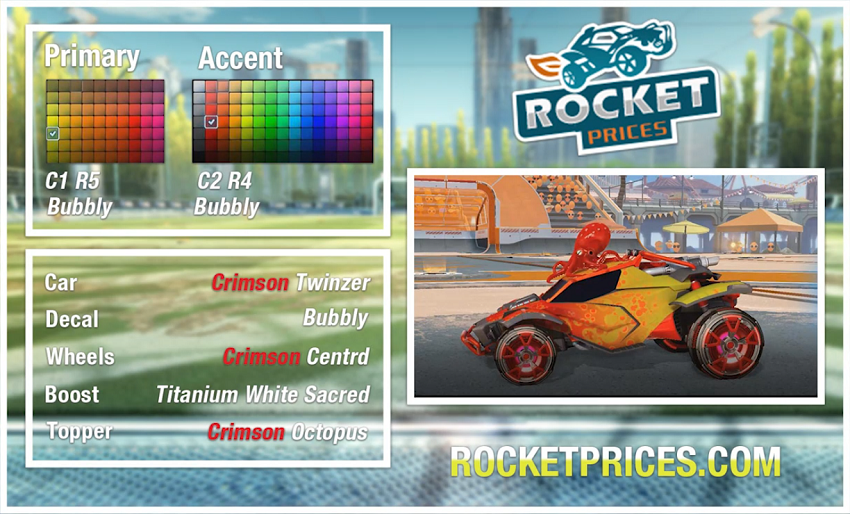 Design 2 - Sky-Blue
Body: sky blue twinzer (primary:c6-r7-spectre,accent:c9-r1-spectre)
Decal: spectre
Wheel: nipper
Topper: sky blue FEZ
Boost: forest green magic missile
Designing your own battle-car is one of the most fun aspects of Rocket League. You have a ton of customization options, from the car body to a hat, and everything in between. But sometimes you have no idea how to create a unique style design or don't know how to make a perfect matching. So RocketPrices.Com keeps recommending you some nice Rocket League car designs which are ones we personally think are really cool. Hope you will like some of these designs!