Have you gotten the new Ferocity Crate items in Rocket League? If not, don't waste time counting pn blind luck to open crates. Welcome to check RocketPrices.Com's Rocket League items offer, here you are not only can buy the new Ferocity crate, but also can buy all painted items from the crate.
Cheap Painted Ferocity Crate Item For Sale On RocketPrices.Com
If you are on RocketPrices because you were trying to find a place for "Buy Rocket League Ferocity Crate" "Buy Rocket League New Black Market Decals" then you are in the right place. RocketPrices.Com is a reliable and professional Rocket League items store, where you can Buy the cheapest Ferocity Crates, Champion Crates, Zephyr Crates and all other Crates which are the newest and one of the most popular Crates in Rocket League.
After a new content update, usually within first two days, RocketPrices.Com also start offering all the new Crate's Items - including the painted items and other contents of Ferocity Crate introduced recently. Now below painted Rocket League items from the new Ferocity Crate, such as the black market decal Hex Tide, Intrudium, exotic wheels Pyrrhos, Zowie: Infinite, import Goal Explosion Glitch: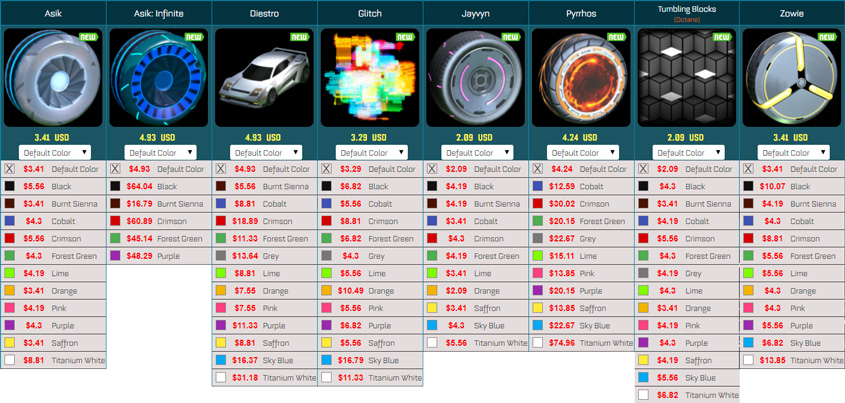 Want to buy all these new ferocity crate items now? Then move up now:

USE COUPON "ROC" TO GET THE BIGGEST DISCOUNT 5% OFF
Buy Rocket League Items For PS4
Buy Rocket League Items For Xbox One
Buy Rocket League Items For PC
Buy Rocket League Items For Switch
Register to get Member Discount before making order, then play our Rocket League Crate Simulator after order completing to win FREE Rocket League keys, crates and items!