Rocket League Certified Items are available on RocketPrices.com for sale now! For all players who want leveling up the special RL items by achieving the stat being tracked, welcome to buy Rocket League Certified Items for Xbox One, PC, PS4, Switch at the cheapest prices in whole market!
How To Get Rocket League Certified items Fast?
Certified items are special items that, when equipped during an online game, record certain statistics, such as goals, parades, midfield passes, and so on. Each certified item can be leveled by increasing the statistics that are recorded. There are 15 different certification tags, each tracking a different statistic.
There are several ways to get a Rocket League certified item:
Coincidentally - After each game, there is a chance to get an item. These items can also be certified, but these items are not so hot in-game
Opening crates - items that you receive by opening crates can also be certified, but it depends on your lucky
Trade with another player - If you do not have a certified item, you can of course trade with a friend or other players, but you need to find a reliable trader.
Fast To Buy Rocket League Certified Items On RocketPrices.Com
The fastest way to get certified items in Rocket League is buying from a trusted online seller! RocketPrices.com should be your first choice and reliable place to buy Certified Items with your wanted certification tags, and all tradeable items and Rocket League keys:
1. Full stock for the Certified Items with different certification tags on sale for Xbox One, PS4, PC, Switch
2. Cheap Prices, Safe Transaction, Fast Delivery, 24/7 Online Customer Support
3. Use coupon "ROC" to save more, register member to get more discount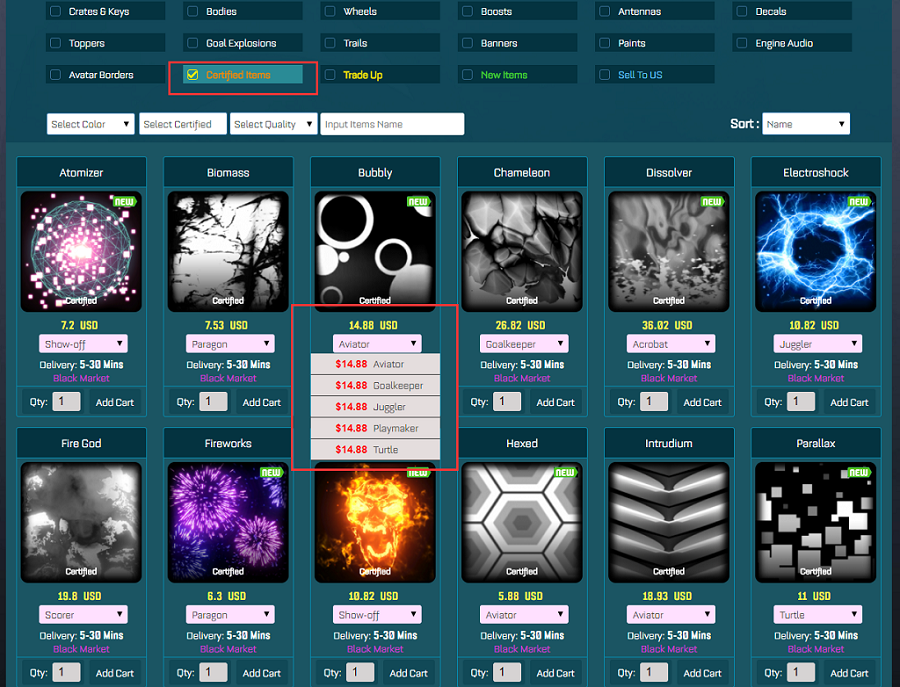 Buy Rocket League Certified Items for Xbox One
Buy Rocket League Certified Items for PS4
Buy Rocket League Certified Items for Steam PC
Buy Rocket League Certified Items for Nintendo Switch
New Rocket League Rocket Pass 3 Items Will Be On Sale Soon!
As the most professional Rocket League Trading store, RocketPrices.Com always update and offer the latest brand new Rocket League items at the earliest time in whole RL market! So if you are the one who want to collect the newest popular decals, wheels, toppers to equip your battle-car, remember to check out our Rocket League Items Trading! Brand new Rocket League Rocket Pass 3 items will be put on sale here soon! Stay tuned!