On April 17th, the long-awaited third Rocket League Rocket Pass 3 is live on all platforms now, not only as usual brings new insane Premium items and Free Items, but also contains special weekly in-game challenges for the first time, which will help you tire-up and unlock Rocket Pass 3 items faster. Players can take advantage of this from April 17th too. But if you don't have much time to spend on leveling up, the fastest way and most cost effective way to collect your favorite items is buying Rocket League Rocket Pass 3 Items on rocketprices.com! All painted, certified, and special edition version of Rocket Pass 3 items are offered here at the cheapest prices in whole market!

Rocket League Rocket Pass 3 Items
Above all, let's take a review of the Rocket League Rocket Pass 3:
What remains the same in Rocket Pass 3?
First, there are a few things that have not changed since the previous pass. So there are again two levels where you can earn rewards. On the simple lower level you do not have to do anything but play normal online games. This earns you experience points for the Rocket Pass, completes challenges and unlocks rewards for free. This is again the premium level that you can buy for ten keys. All those who choose this option will also receive premium rewards and additional opportunities through "Premium Challenges".
What's new in Rocket Pass 3?
As mentioned briefly above, the new Rocket Pass brings challenges into the game to give players an even faster way to the top of the pack. The challenges are designed in a weekly format and therefore can not be completed indefinitely and often. If you complete the challenges or gain enough normal experience points in online games, you unlock so-called "animal points", which now regulate the leveling up in the Rocket Pass. Only those who collect ten Tier Points per level will advance to the next level. If you decide to upgrade to the Premium version at a later time, all points for previously completed Premium Challenges will be retroactively and of course also the corresponding rewards. The game thus remembers your progress, even if you can not use the Premium Challenges at the time of completion. However, all challenges must be completed within one week, otherwise they will expire, be replaced and can not be fulfilled retrospectively. The list of tasks will be updated on Wednesday, 19:00.
What's new Rocket Pass 3 Items?
Now for the really exciting part. What is actually in the rocket league pass 3 unlock? In general, all players in the free version can earn over 20 items. In addition, more than 50 other items for all users of the premium version including a new car, the Guardian Battle Car. There are also Decryptor in the free column of the Rocket Pass number 3 and even a total of ten keys in the paid version. In other words, if you get your pass level high enough, you can recover all the keys invested, and get all the other items and rewards free on top. Now the message on which almost all fans might have hoped: Even the Pro-Tiers are back with the party! So, if you make it above level 70, you'll get a special item from each of the other pre-awarded rewards on each level. These are colored in any case and have the additional chance of a certification and special edition. As always, the rewards after level 70 will be tradable again.
How Long Will It Take To Unlock Every Rocket Pass 3 Tier?
Psyonix estimates that Rocket Pass will take about 60+ hours to complete, excluding Pro Tiers. This will vary depending on what other in-game events are going on when you're playing -- Double XP weekends, etc. And as the Rocket Pass runs until July 29, 2019, you have more than 100 days to hit 1000+ tiers and unlock special items. But remember that, you need to spend time on grinding for tire up. So if you want to collect your favorite Rocket Pass Pro items and Free Items fast and easily, we do think buy Rocket Pass 2 Items directly in market is the good way.
Fast To Buy Rocket League Rocket Pass 2 Items At RocketPrices.Com, Save Time & Money!
The fastest, easiest and most cost-effective way to get your favorite Rocket Pass Items is buying from the most professional Rocket League Trading store - RocketPrices.Com, we offer these Rocket Pass 3 items for all platforms in the first time in whole market with unbelievable cheap prices and fast service:
Buy Rocket League Rocket Pass 3 Items PS4
Buy Rocket League Rocket Pass 3 Items Xbox One
Buy Rocket League Rocket Pass 3 Items PC
Buy Rocket League Rocket Pass 3 Items Switch
Welcome to Use Coupon "ROC" Get Discount to buy Rocket League Rocket Pass 3 items On RocketPrices.Com, favorable prices, and instant delivery! Click below picture and links go to buy:
Buy Rocket League Keys To Get Rocket Pass 3 Premium Items Fast!
And if you need cheap Rocket League Keys to upgrade and get Premium Rewards, welcome to buy Rocket League Keys:
BUY ROCKET LEAGUE KEYS PS4, XBOX ONE, PC, SWITCH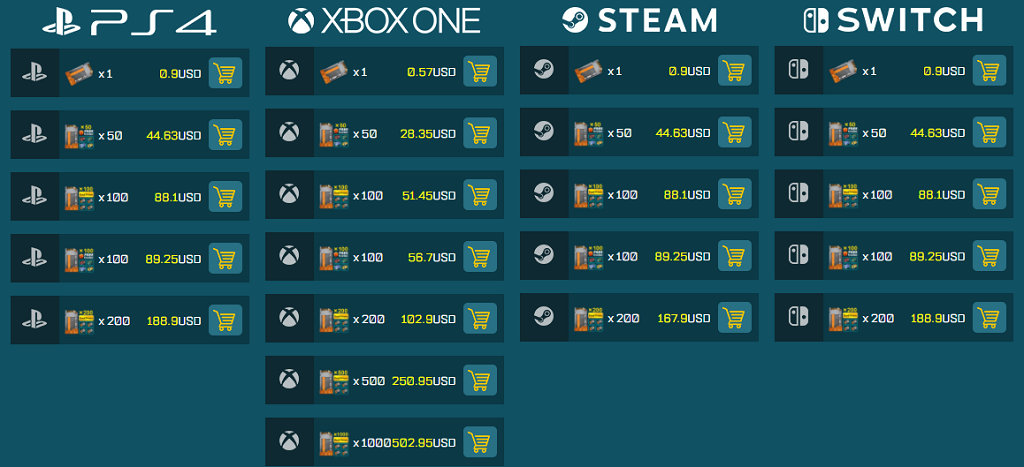 1. Cheapest Prices - Our prices for RL keys on PS4, Xbox One, PC, Switch are all dropped,
2. Free Crates Gifted - Buy Rocket League Keys over 50, various number of crates for your picking up as gift
3. Discount Coupons - 5% OFF Coupon "ROC" works for keys as well, also you can register on Rocketprices.Com to get big member discount
Check Out Rocket League Pass Items Prices, Find A Good RL Trading For Rocket Pass Items
Yes, you can try to buy your wanted Rocket Pass Items from other players, but you need keep your eyes on the trading markets which are players set sells on, such as on the Steam Community, Reddits. Also you should do some research to ensure the seller is not a scammer. Before all of this, you need to study Rocket Pass Items Prices. What's the Rocket Pass Items Prices in keys in Rocket League Trading on PS4, Xbox One, PC, Switch now? Check out Rocket League Rocket Pass 3 Items Prices our Rocket League Prices Index now.
Join Our Giveaways To Win Free Rocket League Keys/Crates and Rocket Pass 3 Items
Want To Get Free RL Keys To Unlock Rocket Pass 3 Premium and More Tiers, Want to get free Rocket Pass 3 Items now? Join below giveaways:
1. Play Rocket League Crate Simulator To Win Free Keys/Crates Daily & Free Items Weekly
2. Subscrible our Youtube Channel, Comment Our Video to Win Free Rocket League Items (Full Set Of Car Designs)