The update to Rocket League Competitive Season 12 is in the starting blocks and will be released on August 27, 2019. This is accompanied by the distribution of the Rocket League Season 11 rewards for the currently still active ranking list as already known from past seasons, and a few new quality-of-life changes to the game. In this guide, RocketPrices.Com present Rocket League Season 12 Update Release Time, Season 11 rewards, new game changes, and all info.
Rocket League Season 12 Update Timeline
Rocket League Season 12 Download Available: 10 a.m. PDT (5:00 p.m. UTC) on August 27
Rocket League Season 11 End Time: 8 a.m. PDT (3 p.m. UTC) on August 27
Rocket League Season 12 Start Time: 10 a.m. PDT (5:00 p.m. UTC) on August 27
Rocket League Season 12 Update Contents
New Game Changes
Depending on the league, there is a new optical customization option for your Battle Cars to earn, if you could win at least ten games at your highest rank. But some other quality of life changes as well as the Rocket Pass 4 to find their way into the game on August 27, says Psyonix in the related announcement.
Rocket League Rocket Pass 4
After the third Rocket Pass has been extended by a few weeks, the time has come very soon for new rewards. Immediately following the big Season 12 update, the fourth version of the Rocket Pass will start on August 28th. How exactly this will be structured, however, is not yet clear. Further details should be communicated to the public when closer to the scheduled release date.
It should not be too long before we learn details and any innovations. With the Season 12 Update also the announced new statistics "High Five" and "Low Five" as well as a revised version of the game sound (HDR Audio) will be integrated into Rocket League.
Rocket League Season 11 Rewards
Let's come to the most exciting part of the post that many fans have been waiting for for some time. The developers have finally unveiled the rewards that are available for the battle cars in season 11, depending on the league reached. In this case, Rocket Boosts have been re-nominated for the Bronze, Silver, Gold, Platinum, Diamond, Champion and Grand Champion ranks.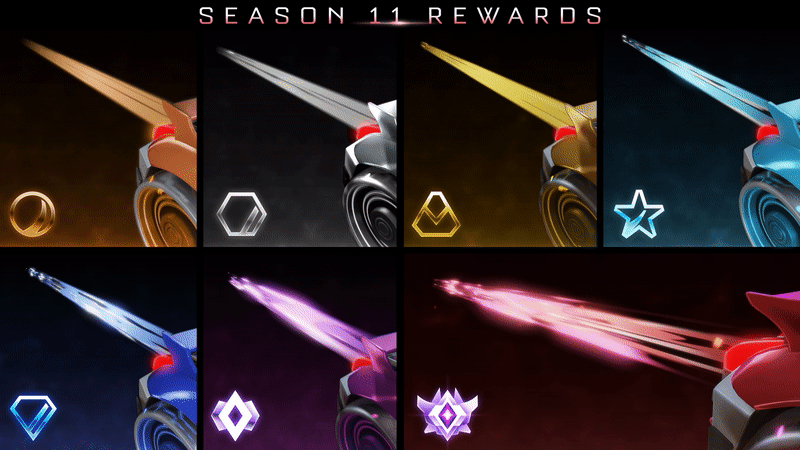 As always, the players get the rewards for their highest rank and, of course, all the levels below. So the Grand Champions among you can look forward to all optical rewards next to their title "Season 11 - Grand Champion". Also for the extra modes there are again special rewards to clear away. Depending on the particular game mode, the missile lanes can unlock, as well as earn separate titles, should you have made it there in the highest league.
'RNG Champ' for Rumble, 'Floor Destroyer' for Dropshot, 'Dunk Master' for Baskets mode, and 'Blizzard Wizard' for all Snow Grandmasters are also waiting to be distributed in the 'Season 11' version.
All players who wish for a so-called "hard reset" of the rankings will once again be disappointed. After the ten placement games to be completed, the players should land again near their final position last season.