Congratulations to 10 lucky winners of our Rocket League Items Weekly Giveaway 127-2 (https://youtu.be/AF5w7Ey3kjs) claim your rewards in 15 days (from April 1st, 2021) - Tygris Design with Draco and Wet Paint.
No win? Don't be upset, join our below GIVEAWAYS to win more Rocket League credits, items FOR FREE:
⭐ Join Weekly Giveaway 128-2 To Win Top 10 Tygris Designs (Hephaestus & Wet Paint) & White Octane⭐
⭐ Register to make $1+ order & play our free crate simulator to Join Huge Weekly Giveaway 128-1 Win White Octane & Tygris Designs (Interstellar, Glaive: Inverted)⭐
⭐ Win Free Rocket League Credits Every Day By Playing Free Crate Simulator ⭐
If you want to buy cheap Rocket League Items & Credits, don't forget to check out the best offers on Rocketprices.Com!
Now keep reading to check out the winners list and get to know how to claim your rewards:
Note: Reward Claim Time: 15 Days (April 1st - April 15th 2021) After Winner List Announced
Giveaway 127-2 Winners & Reward details
Winners
⭐Winner 1 - Özgür | Reward 1
⭐Winner 2 - Félinx | Reward 2
⭐Winner 3 - Kirbybros. | Reward 3
⭐Winner 4 - ReiselRol 7 | Reward 4
⭐Winner 5 - Trytendo_ TTV | Reward 5
⭐Winner 6 - TrickZ ֆɦօօȶɛʀ | Reward 6
⭐Winner 7 - devit_sowjet | Reward 7
⭐Winner 8 - NoBlocks Gaming | Reward 8
⭐Winner 9 - Joshua Crossley | Reward 9
⭐Winner 10 - Troaht | Reward 10
Check out the video of picking winners (https://youtu.be/9up1_kybYSA)
Rewards
Reward 1

Car: Cobalt Tygris
Decal: Wet Paint
Wheels: Cobalt Draco
Reward 2
Car: Saffron Tygris
Decal: Saffron Wet Paint
Wheels: Saffron Draco
Reward 3
Car: Pink Tygris
Decal: Pink Wet Paint
Wheels: Pink Draco
Reward 4
Car: Lime Tygris
Decal: Lime Wet Paint
Wheels: Lime Draco
Reward 5
Car: Forest Green Tygris
Decal: Forest Green Wet Paint
Wheels: Forest Green Draco
Reward 6
Car: Purple Tygris
Decal: Purple Wet Paint
Wheels: Purple Draco
Reward 7
Car: Sky Blue Tygris
Decal: Sky Blue Wet Paint
Wheels: Sky Blue Draco
Reward 8
Car: Burnt Sienna Tygris
Decal: Burnt Sienna Wet Paint
Wheels: Burnt Sienna Draco
Reward 9
Car: Orange Tygris
Decal: Orange Wet Paint
Wheels: Orange Draco
Reward 10
Car: Crimson Tygris
Decal: Crimson Wet Paint
Wheels: Crimson Draco
❗❗Note that:

- As the stock problem with these items on Switch, we will send 1000 Credits instead.
- To be fair for all players, we will only send one reward to one game ID (if there are two or more reward orders related to same single game id, only one reward will be sent to this game id, and the extra winners will be picked on next giveaway to get the extra rewards) so we do suggest one player only use one youtube account to join the giveaway! thanks for your support!
How To Claim My Giveaway Rewards?
⭐ Now follow the below steps to get your rewards of winning 127-2 Giveaway:
►1) We reply winner's original comment on our giveaway 127-2 video and send a link to redeem the reward order No. on our store, for example:

►2) You access the link and fill up your private game info on it, then click "Check" to get an order no. (like ROC18xxxxxx) for trading reward in-game;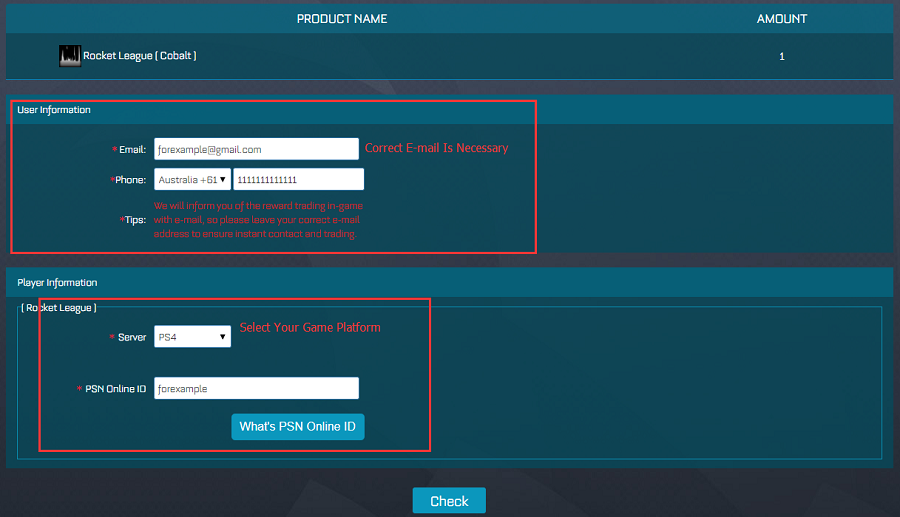 ►3) Edit your original comment and add the reward order No. on it, for that we can make sure you are the right winner going to take the reward; you also can e-mail to [email protected] or message us on Facebook (@rocketitemsprices) to inform us to check your order No.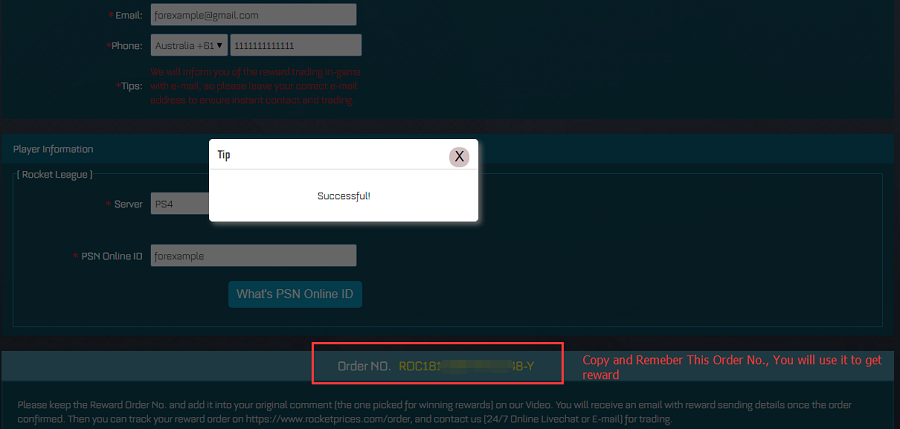 ►4) We check back your comment and get the Reward Order No. , after confirming your reward No., we will reply to your original comment again to inform you to trade reward in-game with our trader;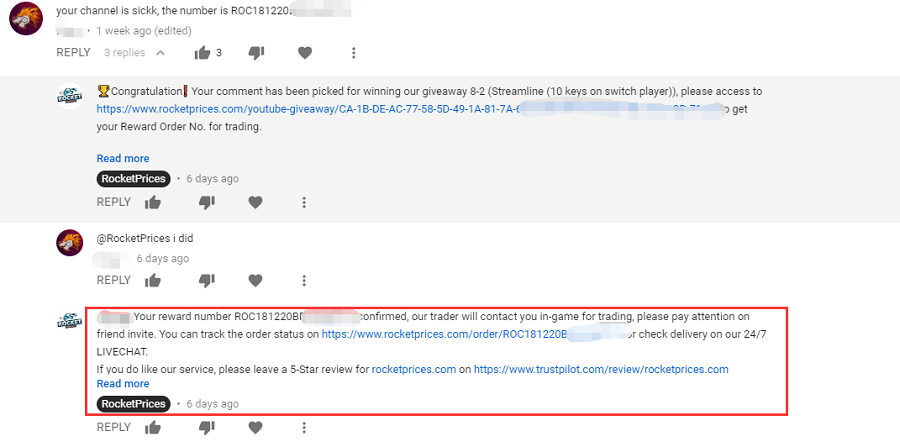 ►5) Once your reward order confirmed, our trader will invite you in-game for trading, please accept friend invites on time. you can track your reward order status on https://www.rocketprices.com/order anytime, or check delivery on 24/7 LiveChat;
Note: We never ask you pay for the rewarding order and send back the items in-game after trading, please ignore anyone who asks you about the rewards order details or send back items, beware of being cheated!
►6) Any problem about the giveaway, please mail to [email protected] or message us on facebook (@rocketitemsprices)