Which tier in Rocket Pass you have hit? The coolest Premium rewards such as Maverick battle-car, Phoenix Wings topper and Troublemaker wheels have been the hottest and most sought RL items in the Rocket League trading market now! How do these new items look on the new hot car Maverick GXT and most-used car Octane? You will find the answer here!
Check out the below video to see the new Battle-Car Maverick GXT car designs with the new customize items Troublemaker IV, Phoenix Wings III, Mage Glass from Rocket League Premium Rewards on this video, also we create some nice Octane designs with the lovely Watermelon themed items and cool Premium items.
Hope you will love our designs, and if you want to collect the Maverick or make your car with the new items, remember that all these cool Premium Items are on hot sale at our RL trading store - www.rocketprices.com, full stock on all platforms, fast delivery in minutes! Also you can feel free to buy unlocked Rocket League Keys here to trade these Rocket Pass items with other players.
Want To Win Free Crates and Keys? Play our free Rocket League Crate Simulator Now!
The items list for all the designs in the video:
Rocket League Octane Lovely Watermelon Style Design
Car: Forest Green Octane
Decal: Ripped Comic
Wheels: Watermelon
Boost: Hot Rod
Topper: Worried Watermelon
Antenna: Warm Watermelon
Color: Primary - C8 R3 Ripped Comic, Accent - C6 R2 Ripped Comic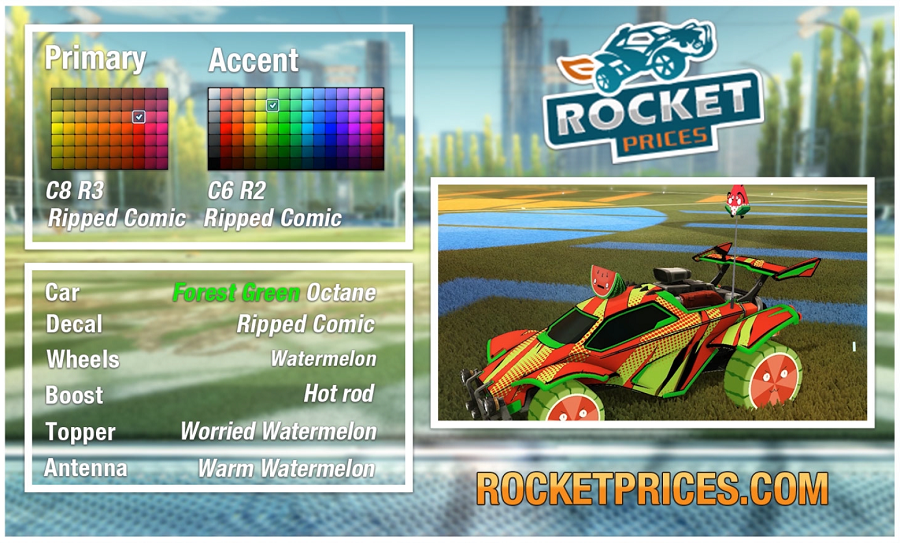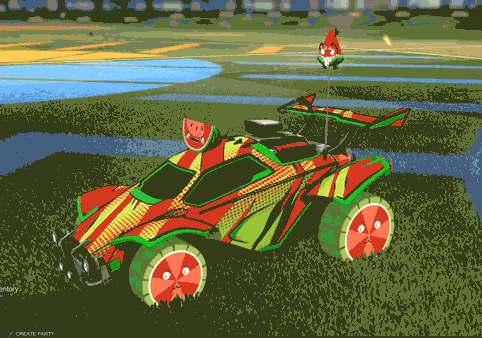 Rocket League Watermelon Themed Octane
Car: Forest Green Octane
Decal: Ripped Comic
Wheels: Watermelon
Boost: Hot Rod
Topper: Worried Watermelon
Antenna: Warm Watermelon
Color: Primary - C1 R6 Ripped Comic, Accent - C7 R4 Ripped Comic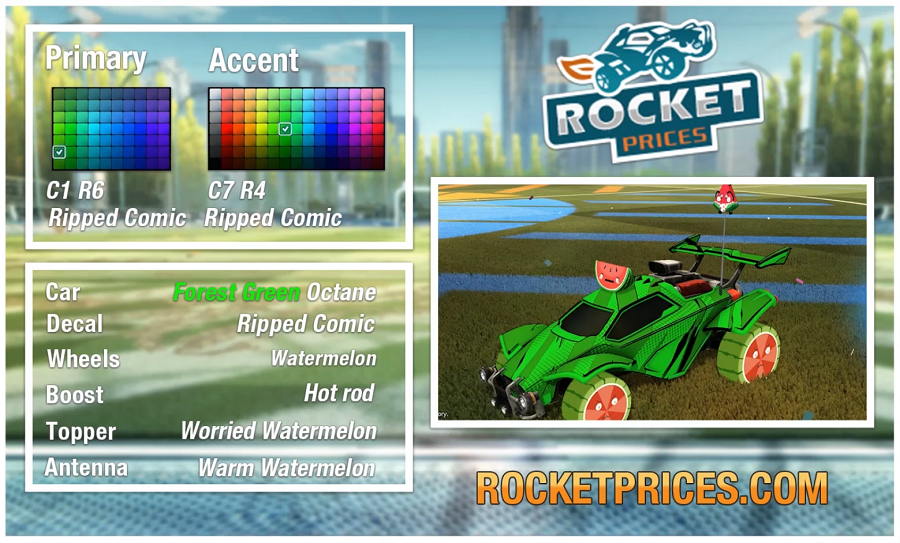 Rocket League Forest Green Maverick GXT Design
Car: Forest Green Maverick GXT
Decal: Dissolver
Wheels: Forest Green Troublemaker IV
Boost: Netherworld
Topper: Forest Green Phoenix Wings III
Antenna: Forest Green Mage Glass III
Color: Primary - C2 R1 Dissolver Accent - C7 R4 Dissolver
Rocket League Saffron Maverick GXT Design
Car: Saffron Maverick GXT
Decal: Dissolver
Wheels: Saffron Troublemaker IV
Boost: Netherworld
Topper: Saffron Phoenix Wings III
Antenna: Saffron Mage Glass III
Color: Primary - C1 R1 Dissolver, Accent - C5 R6 Dissolver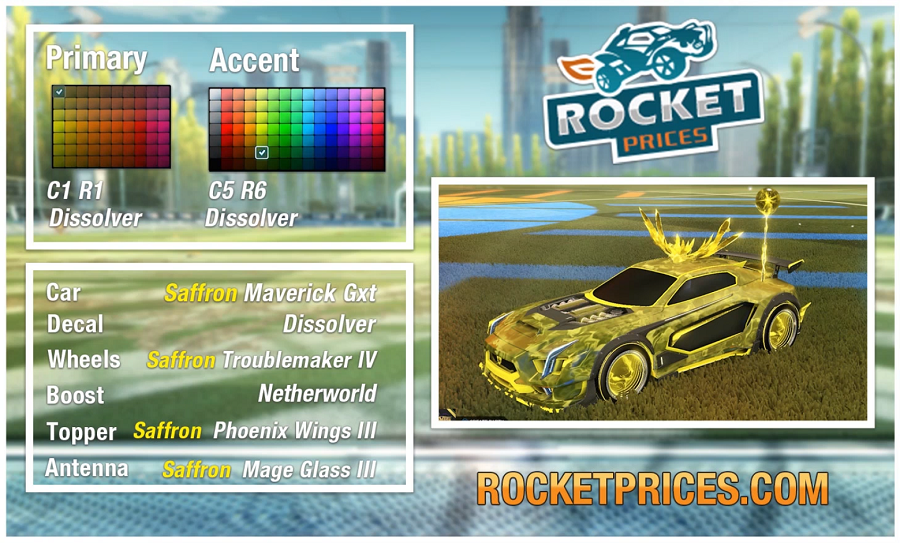 Rocket League Saffron Octane Design
Car: Octane
Decal: Saffron Mainframe
Wheels: Black Capacitor IV
Boost: Netherworld
Antenna: Grey Glass III
Color: Primary - C1 R4 Mainframe, Accent - C1 R7 Mainframe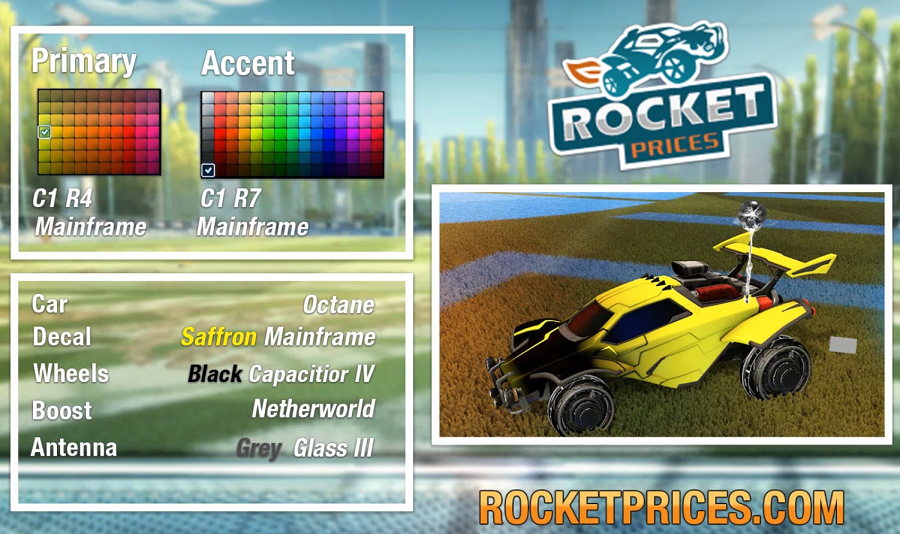 Rocket League Forest Green Octane Design
Car: Forest Green Octane
Decal: Forest Green Mainframe
Wheels: Crimson Capacitor IV
Boost: Netherworld
Antenna: Forest Green Mage Glass III
Color: Primary - C2 R4 Mainframe, Accent - C15 R4 Mainframe