HUGE WEEKLY GIVEAWAY 5-1 Only For Our Customers Is Here! Register on Our site to Make $1+ Order then Play Our Free Crate Open Simulator, you will not only get the chance to win Free Rocket League Keys/Crates, but also possibly win all the 5 Uncommon Rocket League Cars Designs, which created with painted mystery Trigon decals and exotic Hexphase, FSL, Dynamo wheels!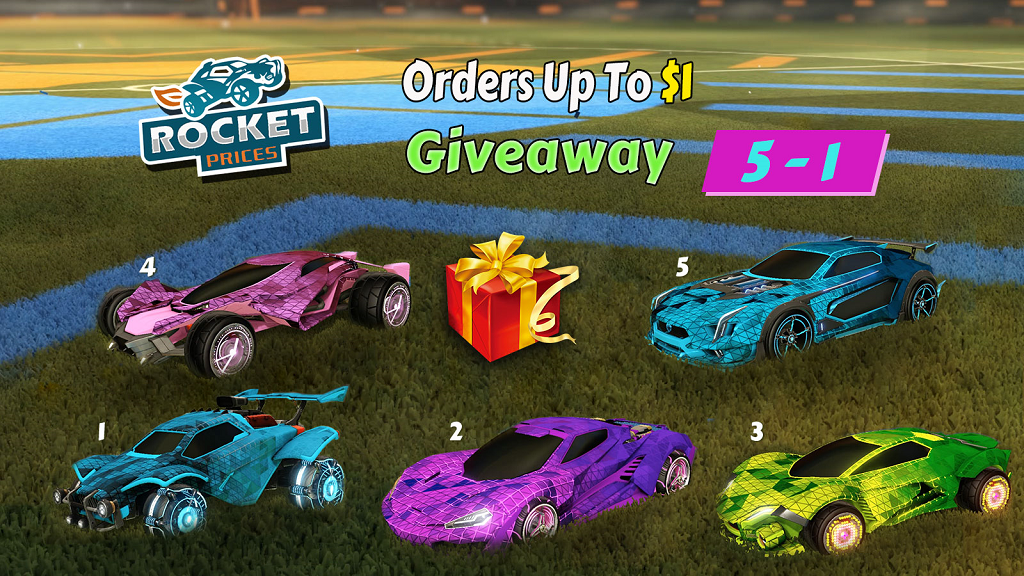 As feedback to all supports of our customers and RL players! RocketPrices.Com are going to offer 2 WEEKLY GIVEAWAYS on our Youtube Channel PER WEEK!
JOIN and WIN! Very Simple! ⭐⭐Orders Up To $1, Play Crate Simulator To Win More Free Items Than Other Players⭐⭐
⭐1. If you have played our free RL Crates Simulator, you should know our daily free keys/crates giveaway for all players, now EXTRA SPECIAL REWARDS to the players who resigter and made $1+ orders on our store:
1). Register On our store as member
2). Sign in and Make 1$+ Order
3). Sign in and Play Our Free Rocket League Crate Opening Simulator
4). Rank and Win Free Keys/Crates (Daily) and Free Items (Weekly)
⭐2. Every week, our system picks out the best opening (the most value of all the crate items) from our registered client (orders up to $1 in last week) in the whole week for the weekly VIP RANK (https://www.rocketprices.com/vip-top-crate-openning), the Top 5 winners will receive extra VIP rewards.
⭐3. This week, the 5 car designs with Trigon decals in below video will be sent to Top 10 VIP RANK winners successively according to the value of each design.
Rewards Rules and Details:

Top 1, Top 2 Winners Each Get The Car Design 1
Top 3, Top 4 Winners Each Get The Car Design 2
Top 5, Top 6 Winners Each Get The Car Design 3
Top 7, Top 8 Winners Each Get The Car Design 4
Top 9, Top 10 Winners Each Get The Car Design 5
⭐4. These VIP winners still can join the daily Free Crates Opening Simulator Rank (https://www.rocketprices.com/rocket-league-crate-opening-top-10-rank) to win free keys and crates⭐
⭐Welcome ALL RL PLAYERS to join our Free Rocket League Keys & Crates Giveaway here!⭐

⭐Huge Weekly Giveaway 4-2, Worth 600 Keys - 13 Painted Rocket League Black Market Mainframe Decals⭐