Greetings, everyone! In order to offer a more fair environment for our Daily Giveaway (Play Crate Simulator & Win Free Rocket League keys/crates), our system and rules got updated!
RocketPrices.Com is always aiming to make every Rocket League player enjoy his/her game better, so we keep releasing the 100% Free Daily Giveaway on Crate Simulator to help all players can get FREE ROCKET LEAGUE KEYS/CRATES without spending any single penny!
Multiple Accounts, Bots, Cheating Not Allowed On Daily Giveaway
But recently, there were more and more players used multiple accounts or even used bots to swipe the ranking list, which is a serious violation of our fair principles! Our Daily Giveaway of Free Keys/Crates should be a feedback to all players, no matter who do or not do any Rocket League Items Trading on our store, we do hope every player have the same chance to win Free Keys/Crates here.
So to be fair for all players, we've upgraded our system and updated our giveaway rules as below:
1. Multiple accounts from same IP, cheating and robots is forbidden here! RocketPrices.com reserves the right of final interpretation.
2. Only the first ONE account from some IP is allowed to join the Giveaway every day, and other accounts from the IP will not be counted into our Rank List!
3. Reject any plugins and bots, once your openings are judged suspicious by our system, we will refuse to send your reward.
4. Multiple accounts from same IP would cause the your IP banned, then any account from the IP would not show up on the Ranking list
5. To enjoy our Giveaway smoothly, we do suggest every player only register ONE account on ONE IP to play, NO BOTS NO CHEATING!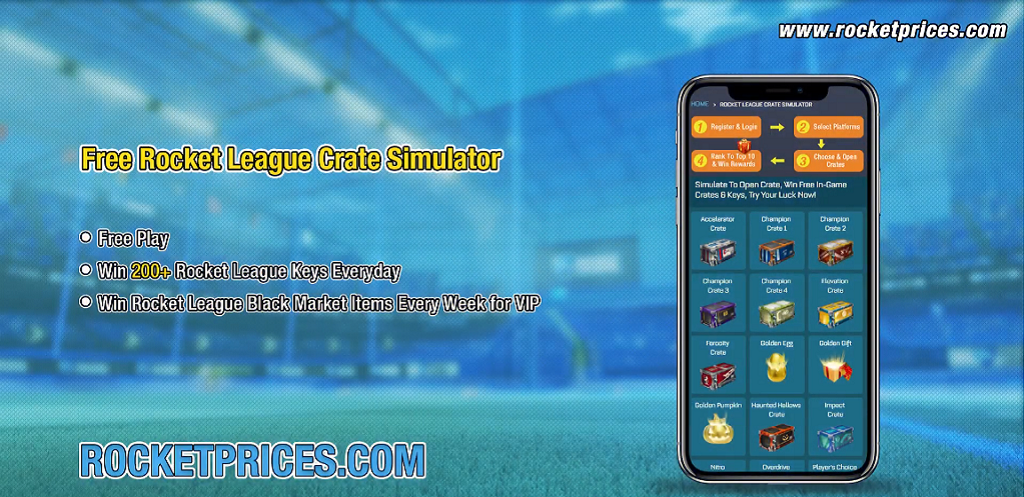 Big Discount Coupons for buying Rocket League Items on our store are added into the rewards list of Daily Giveaway, and more special offers will be release continuously in future! If you are not win today, don't be upset, keep going back to play every day, rewards will be sent to you sooner or later!
Good Lucky & Have Fun!