100% FREE, EASY, SAFE! Join our Huge Weekly Giveaway 54-1 to win 10 Painted Fennec Car Designs with the best black market decals: Glorifier, Chameleon, Fire God, Heatwave, Mainframe and new NeYoYo wheels this week (2019-10-28 to 2019-11-03)! Welcome to play our free Rocket League Crate Simulator to win FREE Rocket League Keys, Crates Daily, and cool popular car designs even Titanium White Octane weekly! Keep reading to get know How To Join and Win!

⭐⭐Place $1+ Order, Play Crate Simulator To Earn Painted Sentinel Designs, Keys, Crates For FREE⭐⭐
How To Join and Win? Very Simple!
⭐1. If you have played our free RL Crates Simulator, you should know our daily free keys/crates giveaway for all players, now extra special rewards to the players who resigter and made $1+ orders on our store:
Join Condition: You should Register to Make an order up to 1+USD, then play crate simulator
1). Register on our store as member
2). Sign in and make 1$+ order
3). Sign in the same member account and play our free rocket league crate opening simulator
4). Rank and win huge free RL items (weekly) on our Top 10 VIP Opening list; and you still earn chance to win free keys/crates on daily Top 10 Crate Opening
⭐2. Every week, our system picks out your best opening (the highest prices of the opened crate items) from our registered client (orders up to $1 in last week) in the whole week for the weekly vip rank. 10 winners will be picked to share rewards.
Reward Rules:
1) Top 5 players receive the rewards in the corresponding order
2) The player ranks on 10th, 20th, 30th, 40th, 50th gets the rewards in the corresponding order
3) Number of players reach 200+, One winner will be picked to get free White Octane as reward (100 keys for switch player instead)
⭐3. This week (2019-10-28 to 2019-11-03), 10 Painted Sentinel Car Designs with the most expensive black market decals, and the newest wheels in video (https://youtu.be/b_o3Sf6EtGU) and white octane will be sent to winners in the corresponding order. Note: For switch players, the equivalent keys (PS4 price) will be sent to winners instead.
View The Designs on Youtube: https://youtu.be/b_o3Sf6EtGU
Duration time: 2019-10-28 to 2019-11-03
Top 1 Winner Reward | Design - 10
Body: Purple Fennec
Decal: Glorifier
Wheels: Crimson NeYoYo
Top 2 Winner Reward | Design - 9
Body: Purple Fennec
Decal: Glorifier
Wheels: Purple NeYoYo
Top 3 Winner Reward | Design - 8
Body: Orange Fennec
Decal: Chameleon
Wheels: Burnt Sienna NeYoYo
Top 4 Winner Reward | Design - 7
Body: Orange Fennec
Decal: Chameleon
Wheels: Orange NeYoYo
Top 5 Winner Reward | Design - 6
Body: Forest Green Fennec
Decal: Fire God
Wheels: Lime NeYoYo
Top 10 Winner Reward | Design - 5
Body: Forest Green Fennec
Decal: Fire God
Wheels: Forest Green NeYoYo
Top 20 Winner Reward | Design - 4
Body: Sky Blue Fennec
Decal: Heatwave
Wheels: Cobalt NeYoYo
Top 30 Winner Reward | Design - 3
Body: Sky Blue Fennec
Decal: Heatwave
Wheels: Sky Blue NeYoYo
Top 40 Winner Reward | Design - 2
Body: Fennec
Decal: Mainframe
Wheels: Titanium White NeYoYo
Top 50 Winner Reward | Design - 1
Body: Fennec
Decal: Mainframe
Wheels: Grey NeYoYo
⭐4. These VIP winners still can join the Daily Free Crates Opening Simulator Rank (https://www.rocketprices.com/rocket-league-crate-opening-top-10-rank) to win FREE Rocket League keys and crates
⭐Welcome all RL players to join our FREE Rocket League Keys & Crates Giveaway here!⭐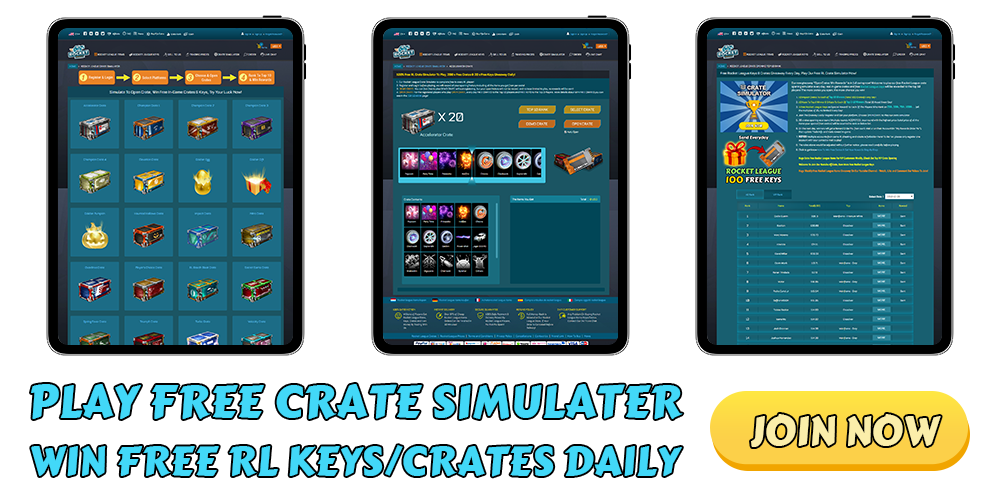 ⭐Welcome all players to join our Huge Weekly Giveaway 53-2 - Win 10 Sentinel Cars (Glorifier, Future Shock, Gyre, Picket) By Comment Video (https://youtu.be/ud1zOGozqAU)⭐