Happy Halloween! Candy from RocketPrices.Com is ready for all our lovely customers! The holiday is almost here and on the best professional Rocket League Items store - RocketPrices.Com, we're celebrating with you through giving out of the biggest discount coupon for buying Rocket League Items including Rocket League Skins, Keys, Crates here, wish you enjoy a great holiday shopping here!
Happy Halloween & Enjoy Big Discount On RocketPrices.Com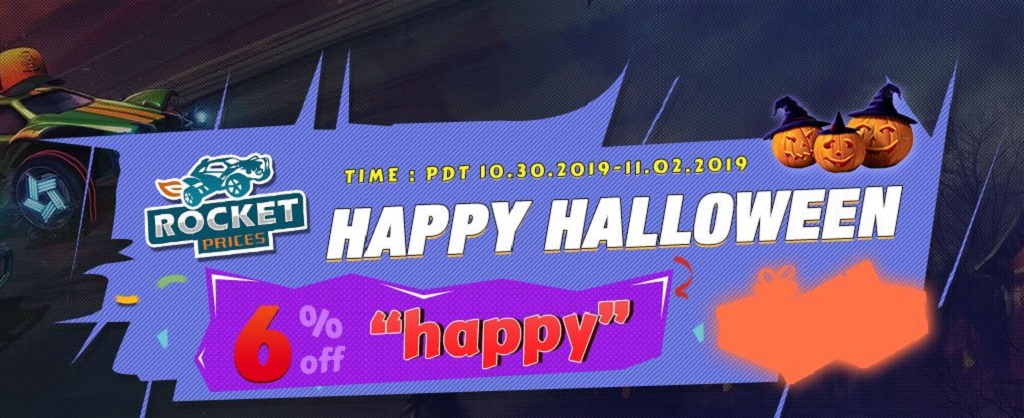 ☆ You can buy Rocket League Crates, Keys, Bodies, Wheels, Boosts, Antennas, Decals, Toppers, Goal Explosions, Trails, Banners, Paints and all the newest Rocket League Items anytime as Rocketprice.Com provide full stock for Rocket League Items on Xbox One/Steam PC/PS4/Nintendo Switch.
Use The Biggest Discount Coupon "HAPPY" To Save 6% OFF For Rocket League Items
☆ Also we still have a free crates as gift for buying tradable Rocket League keys on Rocketprices.com
Don't miss this great opportunity! And now all the new Rocket League items including the Golden Pumpkin 2019, Neuro-Agitator, Apparatus: Inverted are hot sale! If you are satisfied with our service, please share our promotion for Rocket League items to others.
☆ Still welcome to join our Daily & Weekly Rocket League Items Giveaways to win the popular painted bodies, decals, wheels FOR FREE!
For more special deals and promo, please follow our Facebook (@RocketItemsPrices) and Twitter (@Rocket_Prices). Any problem on using the coupon or making order, welcome to contact us through 24/7 Online Livechat. Much love our new and old customers, we are committed to continuous efforts to truly repay every customer in 2018!