Hello, every Rocket League player on Xbox One, PS4, PC, and Switch! As you know, the price of every Rocket League item is not stable in the Rocket League market, this influence the item's trading every day. That's why you need our correct and daily updated Rocket League Trading Prices guide! Does the price of the item you are going to trade raise or drop over the last 15 days? Now you can get the price trend for every Rocket League item by checking out our Rocket League Prices List!
Check Price For One Rocket League Item Over The Last 15 Days
Have you used our Rocket League Prices List to check items value before you accept trading? If not, we strongly recommend you to use it now! Our Rocket League Crates Prices index and Rocket League Skins Prices index is the most comprehensive and correct one with powerful functions! Now the price chart for each item subjoin into the list, with it you can easily to get know how does one item's price change in the last half month. How to check out price trend of one Rocket League item? Simply! You just need to follow below steps:
1. Open RocketPrices.Com, click TRADING PRICES on the navigation bar to enter the Rocket League Prices List for PS4, Xbox One, PC, Switch
2. Select the platform for the items you want to check out by clicking the icon
3. Enter the page which shows the full list for all Rocket League skins prices and Rocket League crates skins on the platform
4. Click the name of the item you want to check, and turn to the page showing the price for the item over the last 15 days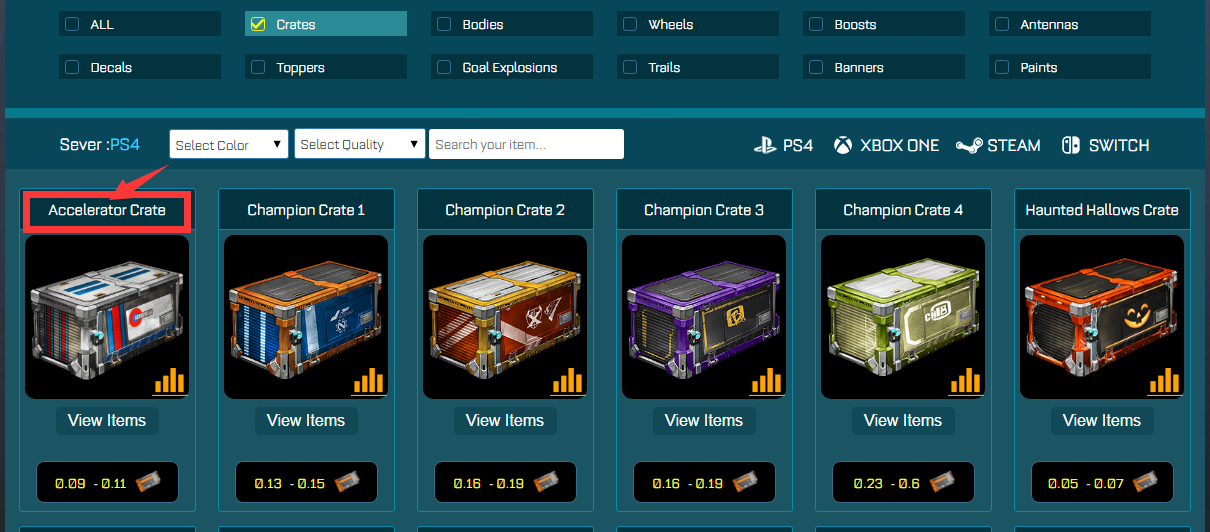 It's our pleasure if it is useful to you. We will keep improving to meet every Rocket League fans demand. Stay Tuned! By the way, if you are looking for a reliable place to sell or buy unlocked Rocket League keys , crates, and items, RocketPrices.Com should be your first choice with supporting favorable, fast safe transaction!