ocketprices.com recommend a new stunning rocket league Twinzer design recently. If you are crazy about the speed and passion, if you are interested in Halloween style, or if you are fascinated by the specter decals, this orange rocket league Twinzer design will be an ideal option for you.
The classic style of this rocket league Twinzer designs is so distinctive with its orange body, specter decal, saffron Ninja wheels, orange Tsunami Beam boost, pumpkin Topper and Friction trail. And you could appreciate the classic design below.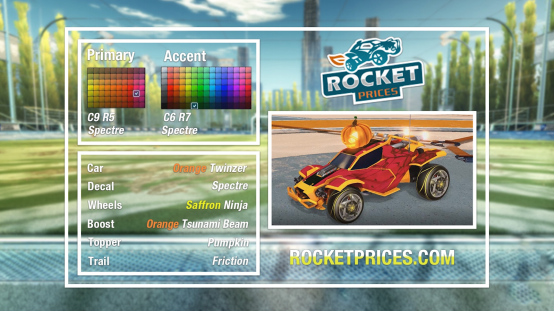 Classic design
Body: Orange Twinzer [Primary: C9-R5-Spectre; Accent: C6-R7-Spectre]
Decal: Spectre
Wheel: Saffron Ninja
Topper: Pumpkin
Boost: Orange Tsunami Beam
Trail: Friction
Of course, apart from the design mentioned above, there are many other designs waiting for you to create. So as for those with great creativities, this rocket league twinzer designs will meet their demands successfully.
The picture below shows that the car is with a Tsunami Beam boost.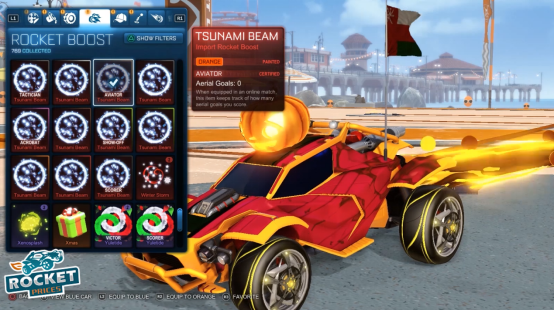 The picture below shows that the car is with a Friction trail.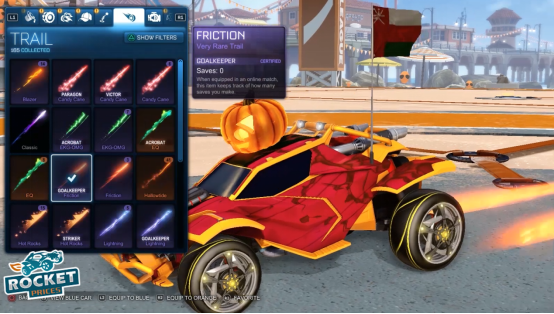 The picture below shows that the car is with a Parallax decal. Besides, there are decals of Labyrinth, Heatwave, Hexed, Fire God, Chameleon, Bubbly, Biomass, 20XX, Storm Watch, and so on. Every decal brings a unique game feeling. So all rocket league twinzer designs deserve to experience.
This rocket league twinzer designs could bring more fun of the game. So join us! This rocket league twinzer car with various distinctive designs is a nice choice. Of course, you could get the designs with rocket league keys and rocket league crates, or you could do that by visiting rocket league shop.