From 15 October to 5 November, Rocket League Haunted Hallows event runs in the game to celebrate 2018 Halloween, which features exclusive limited rewards and Golden Pumpkins that you can earn with the time-limited currency Candy Corn.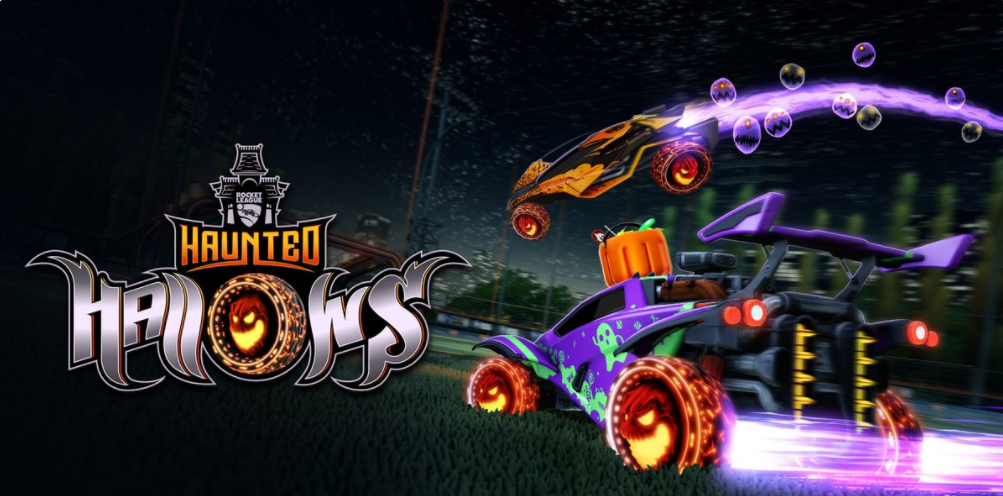 How To Get Rocket League Haunted Hallows Limited Rewards?
Throughout the Haunted Hallows event, there will be Halloween-themed rewards including New 'Limited' Decals, Toppers, Wheels and more you can earn. You can check out the full list of Rocket League Haunted Hallows limited items here. All these new items can be redeemed with the limited-time Halloween currency Candy Corn until Thursday, November 8, 2:00 PM PST (5:00 pm EST, 10:00 PM UTC). But remember that all this new Haunted Hallows items are tradable, so if want to get them fast, check out the best deal for RL items on RocketPrices.Com, allows you to buy the limited-time items anytime!
How To Get the Golden Pumpkins During Haunted Hallows Event?
Also added to the game this time are the Golden Pumpkins. Players who collect these will be able to unlock one Customization Item from Turbo, Nitro, and Player's Choice Series 2 crates. Once you redeem your Candy Corn for a Golden Pumpkin, no Key or Decryptor is required to open it.
How To Earn Candy Corn In Rocket League?
Candy Corn is not only a sweet that is especially popular with both Americans and Canadians, but also serves as a special limited-time currency in Rocket League. This allows you to buy the limited-time items until November 8th. You can earn candy corn by, of course, playing online matches. Haunted Hallows runs from today until November 5, giving you plenty of time to collect your candy and trade it in.
The Amount of Candy Corn You need for each item and Golden Pumpkin:
Collect Enough Candy Corns For Everything Is Grinding? RocketPrices.Com Help You Out!
But check out the amount of the Candy Corn you need for each Haunted Hallows reward and Golden Pumpkin, we can say it's still grinding to collect. It's about 1500 total candy corns to buy everything, so 150 games if 10 is the average. Call it 10min a game on average and you land somewhere around 25hr or 8hr/week. But remember that the limited items are really worth to collect. So if you don't have much time to play games, we do suggest you can go to RocketPrices.Com, we've prepared full stock of cheap Golden Pumpkins and Haunted Hallows items for you, click below licks to check out our offers on four platforms:
Buy Haunted Hallows Items and Golden Pumpkins On PC
Buy Haunted Hallows Items and Golden Pumpkins On Xbox One
Buy Haunted Hallows Items and Golden Pumpkins On PS4
Buy Haunted Hallows Items and Golden Pumpkins On Switch
Get more discounts to buy Rocket League Items here:
- Use coupon "ROC" to save 3% OFF
- Sign up now to get big Member Discount