Congratulate The 10 Winners Of Huge Weekly Giveaway 4-2, Get Your Rewards (Mainframe Decal) From RocketPrices.Com Now! As the rules of Giveaway 4-2, the total comments of the video is only 334 (PDT 00:00AM 15th November To PDT 24:00PM 21st November, Filter duplicate users), so 10 winners are picked up to win the Reward 1 to 10 which shown the video. Now keep reading to check out the winner list and learn how to get your rewards.
⭐Winner 1 - David Knapp
⭐Winner 2 - Itsjoeboi
⭐Winner 3 - Hunter Miller
⭐Winner 4 - Evan Bijeau
⭐Winner 5 - TheFruxter Games
⭐Winner 6 - kv vk
⭐Winner 7 - Genaro Vazquez
⭐Winner 8 -へそ団子
⭐Winner 9 - Sam Ellis
⭐Winner 10 - Dyslexci
Check out the video for winners picking:
⭐Join Our Huge Weekly Giveaway 5-1 To Win Painted Trigon Car Designs & Free Keys⭐
⭐Join Our Huge Weekly Giveaway 5-2 To Win Black Market Singularity Goal Explosions⭐
⭐Join Our Daily Free Rocket League Keys/Crates Givaway By Playing Free Crate Simulator ⭐

⭐ Now follow below steps to get your rewards - the corresponding painted Mainframe decal:
►1) We reply your original comment on our Giveaway 4-2 video with details about sending rewards, including the link to redeem the Reward Order No. on our site, for example:

►2) You get the link and fill up your private game info on it, then click "Check" to get the Order No. (like ROC18XXXXXX) for trading reward in-game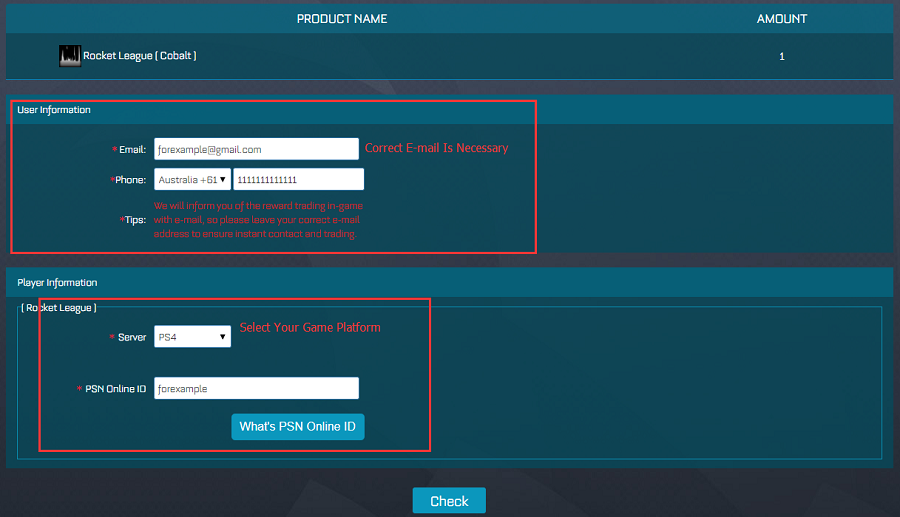 ►3) Edit your original comment and add the order No. on it, for that we can make sure you are the winner are going to take the reward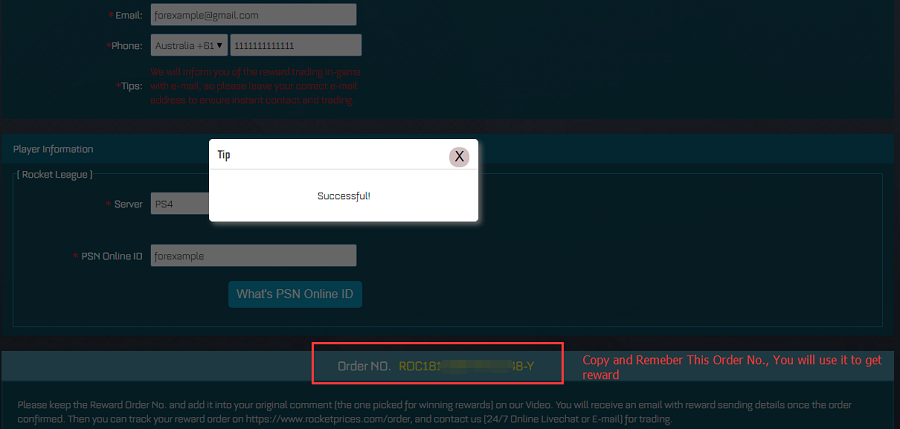 ►4) We check your comment and get your Reward order No., then send you e-mail to inform you trading in-game after confirming the order info

►5) Our trader will invite you in game for trading. You can track your Reward Order No. on https://www.rocketprices.com/order anytime, or check delivery on 24/7 LiveChat
NOTE: We never ask you pay for the Reward order and send back the items in-game after trading, please ignore anyone who ask you about the rewards Order details or send back items, Beware of being cheated!
►6) Any problem about Giveaway, please message us on Facebook (@RocketItemsPrices)
Reward Details To Each Winner
⭐Winner 1: David Knapp ► Reward 1
Decal: Default Mainframe
For Switch Players: 18 Free Keys Instead
⭐Winner 2: Itsjoeboi ► Reward 2
Decal: Burnt Sienna Mainframe
For Switch Players: 20 Free Keys Instead
⭐Winner 3: Hunter Miller ► Reward 3
Decal: Orange Mainframe
For Switch Players: 22 Free Keys Instead
⭐Winner 4: Evan Bijeau ► Reward 4
Decal: Pink Mainframe
For Switch Players: 25 Free Keys Instead
⭐Winner 5: TheFruxter Games ► Reward 5
Decal: Cobalt Mainframe
For Switch Players: 28 Free Keys Instead
⭐Winner 6: kv vk ► Reward 6
Decal: Saffron Mainframe
For Switch Players: 30 Free Keys Instead
⭐Winner 7: Genaro Vazquez ► Reward 7
Decal: Lime Mainframe
For Switch Players: 32 Free Keys Instead
⭐Winner 8: へそ団子 ► Reward 8
Decal: Purple Mainframe
For Switch Players: 34 Free Keys Instead
⭐Winner 9: Sam Ellis ► Reward 9
Decal: Forest Green Mainframe
For Switch Players: 36 Free Keys Instead
⭐Winner 10: Dyslexci ► Reward 10
Decal: Sky Blue Mainframe
For Switch Players: 40 Free Keys Instead