Happy Holidays! Time for Winners of Weekly Giveaway 9-2 now! Congratulations, 11 Winners are picked to share 11 black market decals this time as we received total 224 comments (PDT 00:00AM 20th December To PDT 24:00PM 26th December, Filter duplicate users) on our Huge Weekly Rocket League Giveaway 9-2 Video! Now keep read to check out the winners list and how to get your rewards.
GIVEAWAY 9-2 Winners & Reward Details
⭐Winner 1 - yohann salmon | Reward 1 - Tora (2 keys for switch player)
⭐Winner 2 - ZodiacWolf | Reward 2 - Hexed (4 keys on switch player)
⭐Winner 3 - Kevin Heijblom | Reward 3 - Labyrinth (4 keys on switch player)
⭐Winner 4 - Kaja 03 | Reward 4 - Biomas (4 keys on switch player)
⭐Winner 5 - VitorGaming37 | Reward 5 - Spectre (4 keys on switch player)
⭐Winner 6 - Edem Kcm | Reward 6 - Parallax (6 keys on switch player)
⭐Winner 7 - AleX | Reward 7 - Slipstream (7 keys on switch player)
⭐Winner 8 - Kayden Segich | Reward 8 - Storm Watch (8 keys on switch player)
⭐Winner 9 - Ltjj /Gaming Videos | Reward 9 - 20XX (10 keys on switch player)
⭐Winner 10 - Ice_From_Fridge | Reward 10 - Default Wet Paint (10 keys on switch player)
⭐Winner 11 - jeen prive | Reward 11 - Streamline (10 keys on switch player)
Check out the video of picking winners (https://youtu.be/8xU8rCzQB2A)
⭐ Comment Our Huge Weekly Giveaway 10-2 Video On Youtube To Win 10 Christmas Themed Car Designs ⭐
⭐ Make $1+ Order & Play Our Free Crate Simulator To Join Huge Weekly Giveaway 10- and Win 5 Artemis GXT Car Designs ⭐
⭐ Join Our Daily Free Rocket League Keys/Crates Givaway By Playing Free Crate Simulator ⭐

How To Get My Giveaway Rewards?
⭐ Now Follow below steps to get your rewards of winning 9-2 Giveaway:
►1) We reply winner's original comment on our Giveaway 9-2 video and send a link to redeem the Reward Order No. on our store, for example:

►2) You access to the link and fill up your private game info on it, then click "Check" to get a Order No. (like ROC18XXXXXX) for trading reward in-game;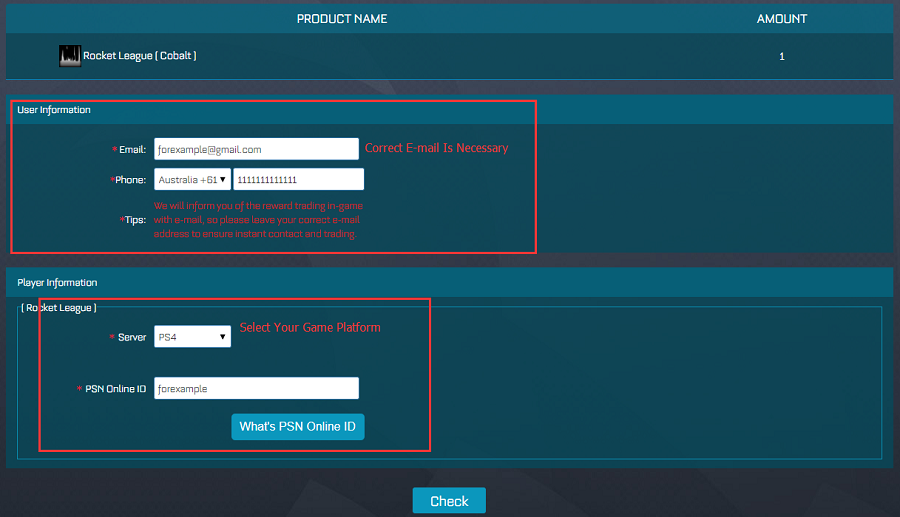 ►3) Edit your original comment and add the Reward order No. on it, for that we can make sure you are the right winner going to take the reward; you also can e-mail to [email protected] or message us on Facebook (@RocketItemsPrices) to inform us to check your order No.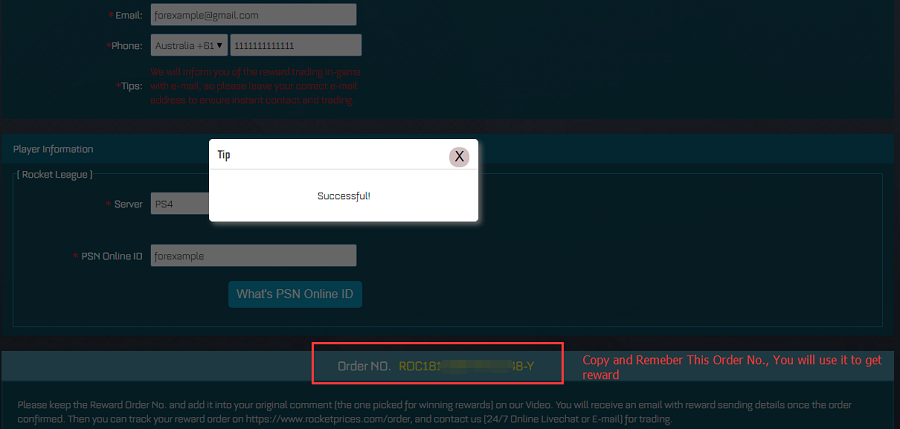 ►4) We check back your comment and get the Reward order No. , after confirming your reward No., we will reply your original comment again to inform you to trade reward in-game with our trader;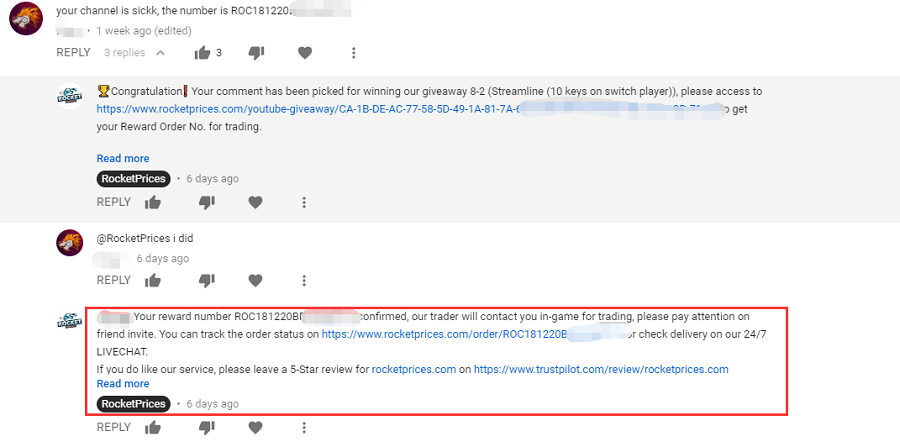 ►5) Once your Reward Order confirmed, our trader will invite you in game for trading, please accept friend invite on time. You can track your Reward Order status on https://www.rocketprices.com/order anytime, or check delivery on 24/7 LiveChat;
NOTE: We never ask you pay for the Reward order and send back the items in-game after trading, please ignore anyone who ask you about the rewards Order details or send back items, Beware of being cheated!
►6) Any problem about Giveaway, please mail to [email protected] or message us on Facebook (@RocketItemsPrices)