Want to get Free Rocket League Keys to upgrade Rocket Pass 3 Premium and unlock new incomparable items? Want to win free Rocket League crates and new Rocket Pass 3 items? Join our Daily Giveaway on Rocket League Crate Simulator now! Rocket Pass 3 Virtual Crate are updated here, go to open it now and wish you win huge free RL items!
Open Virtual Rocket Pass 3 Crate, Win Free Rocket League Keys/Crates/Items
Rocket Pass 3 has dropped into Rocket League! To celebrate the new season and enjoy the fun with all players, RocketPrices.Com as the most professional and friendly Rocket League Trading store, not only provides the cheapest Rocket Pass Items for you here, but also offers more giveaways to help you win free Rocket League keys, crates, new items easily and fast, without spending any single of dollar! Now we've added a new virtual crate on our Rocket League Craye Simulator which covers all the new Rocket Pass 3 items for your opening, you can try your luck to open it and get high rank on our Top Opening List!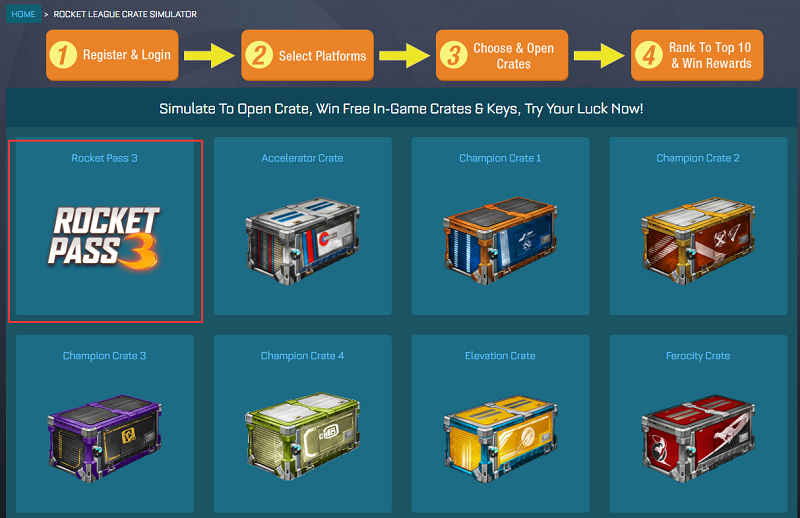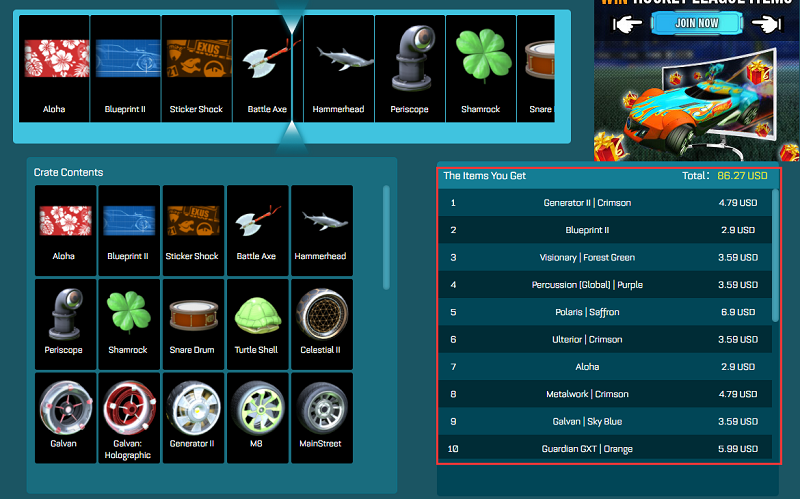 How To Play & Win?
1. For new players, please Register & Login as member on our site, then choose the your game platform (PS4, PC, Xbox One or Switch)
2. Click Rocket League Crate Simulator access to the page for choosing crates you want to open
3. You will find the Virtual Rocket Pass 3 Crate listed on the first place, select it by clicking
4. Then go to open 1 group of 20 crates, similar to other crates, you will get one Rocket Pass 3 item from one crate, after complete 1 group opening, the total price of 20 items from your opening will be ranked on the Top Crate Opening List
5. Once you rank on Top 10 or any place on multiple of 25 like 25, 50, 75…, you will be rewarded free Rocket League keys or crates
6. For customer who registered and made $1+ order on our site, can earn extra place to rank on our Weekly VIP Opening List and win huge free items including the new Rocket Pass 3 items
Join Our Giveaway On Youtube To Win Huge Free Rocket League Items

Don't hesitate, Go To Play Our RL Crate Opener here, Win Free Items now, Come on! Also welcome to join our huge weekly giveaway on RocketPrices.Com Youtube channel, there you can easily to win full set of Rocket League designs with the most popular black market decals, exotic wheels and more! Just need to like and comment our giveaway videos:
Want to collect painted, certified Rocket League items and Rocket Pass 3 items fast? Don't forget to check out the best Rocket League Items Trading on RocketPrices.Com! Use coupon "ROC" to buy Rocket League Rocket Pass 3 items and cheap Rocket League Keys now!